Ingredients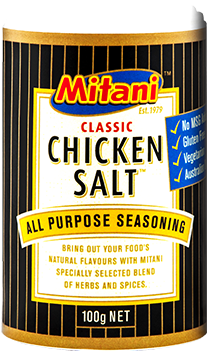 Mitani Chicken Salt
2 large capsicums
1 large eggplant
3 large zucchinis
2 tins of tomatoes
3 bulbs garlic
2 red onions
Bunch basil
Bunch flat leaf parsley
100ml olive oil
Ground black pepper

2 ½ cups water
1 tablespoon olive oil
Mitani Chicken Salt
1 ½ cups couscous
Method
Deseed and dice capsicum keeping the dice fairly chunky. Dice the eggplant and zucchinis in the same fashion.
Peel and dice the red onions and peel and finely chop the garlic.
Wash and pick the basil and parsley.
Heat the olive oil in a thick bottomed pan, add the red onion and diced garlic and cook through until soft.
Add the eggplant, red capsicums and zucchinis and cook down until vegetables have softened.
Add tinned tomatoes and stir.
Cook further on a low heat for a further 5 - 10 minutes and add three good shakes of Mitani Chicken Salt and ground black pepper.
Add basil and parsley leaves and stir.
Boil the water with the olive oil and two good shakes of Mitani Chicken Salt.
Remove from the heat and stir in the couscous. Cover and set aside for 5 minutes. Fluff with a fork.
Serve.