Ingredients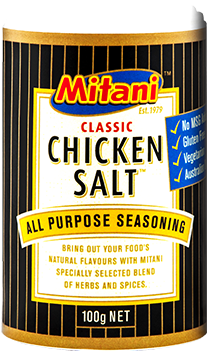 Mitani Chicken Salt
4 x 200 gram snapper fillets with skin on
Bunch parsley
Bunch coriander
Large clove of garlic
Lemon
50ml Olive Oil
2 thick slices of stale white bread
Ground black pepper
Method
Ensure the fish is room temperature. If the fish is in the fridge then remove and allow to come up to room temperature for 20 minutes.
Turn on the oven grill.
Pick and finely chop both the parsley and coriander. Finely chop the garlic and zest and juice the lemon.
Break the bread into small chunks and add into a blender. Add the half the olive oil along with the parsley, coriander, lemon juice and zest and garlic. Season with Mitani Chicken Salt and blend until the mixture resembles slightly moist breadcrumbs. Set aside.
Rub the fish fillets with olive oil and season with Mitani Chicken Salt.
Heat a pan until it starts to smoke. Add a small amount of olive oil to the pan then add the fish skin side down to sear for around 2-3 minutes until golden. Turn the fish over in the pan and cook for another minute on the other side. Turn the fish again and place a thick player of the breadcrumb mixture over the top of the fish.
Place under the oven grill for a minute or two until the breadcrumb mixture turns golden.
Serving Suggestion
Serve the fish with a couple of wedges of lemon, boiled potatoes and a salad.
Note: If you're unable to purchase snapper then other firm fleshed fish can be used instead.