Crispy pork belly with Asian salad
Perfect crispy skinned pork and a nicely balanced salad with equal amounts of spice and crunch.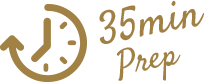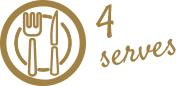 Ingredients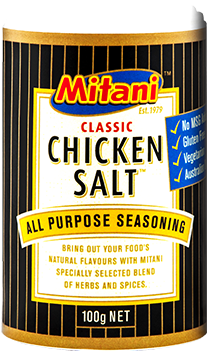 Mitani Chicken Salt
1kg pork belly
2 large cloves of garlic
Tablespoon of olive oil
¼ cup fennel seeds
2 large brown onions
Ground black pepper
Asian Salad
Small red cabbage
2 carrots
Bunch coriander
Lime
¼ cup peanuts
¼ cup rice wine vinegar
¼ cup caster sugar
Small red chilli
Tablespoon soy sauce
Method
Criss-cross the rind of the pork belly with a sharp knife. Rub the skin side only liberally with Mitani Chicken Salt.
Finely chop the garlic, crack the fennel seeds and add to a bowl with the black pepper and olive oil. Mix well.
Coat the meat side of the belly pork with the marinade and leave in the fridge overnight.
Remove pork from the fridge and allow to come to room temperature.
Preheat oven to 250°C/480°F/Gas 9
Peel and thickly slice the onions and line the bottom of roasting tray. Lay the pork meat side down over onions.
Roast for 20 – 25 minutes then reduce heat to 165°C/325°F/Gas 3 and cook for a further 50 minutes or until rind is crisp and pork is cooked through. Set aside the pork for 10 minutes to rest.
Finely slice cabbage, peel and grate the carrots, pick and wash the coriander leaves and add into a large bowl with the peanuts (chopped).
Gently heat the rice wine vinegar and sugar over a low heat until the sugar dissolves and the liquid starts to thicken.
Deseed and finely chop the chilli, juice and zest a lime and add to the vinegar. Stir in the soy sauce.
Slice the pork, add the dressing to the salad and combine. Serve immediately.